JULIA SCHWAB MA, describes her Boulder Art Therapy practice:
"Art-making as Experience is the primary event. With people who have hidden or forgotten personal stories, with those who have backed away from their telling, or with others who are over-rehearsed in their verbal expression, Art Therapy makes a time-saving and non-threatening difference. My studio is a friendly warm space where you can feel safe, explore your imagination and be inspired."
IN THE STUDIO ENVIRONMENT YOU WILL:
E

xperience the healing power of studio art

E

xercise your imagination in the safe studio container

E

stablish and trust your own boundaries

H

ave fun with art materials; no critic

L

earn to act despite uncertainty

The videos are here and ready ! See below.
What Is Art Therapy (click image to see video)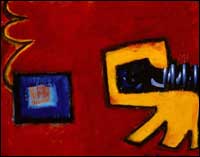 Be the Change You Want to See (click image to see video)